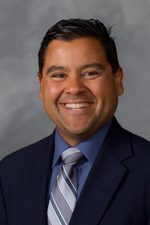 Vice President for Diversity and Inclusion, and Chief Diversity Officer

Professor
Email Address: villalja@nullwfu.edu
Mailing Address: Department of Counseling, Box 7406, WFU, Winston-Salem, NC 27109
Faculty member at Wake Forest University since 2011
Education:
Ph.D. in Counselor Education, University of Florida, 2002
Ed.S. in Counseling, University of Florida, 1996
M.Ed. in Counseling, University of Florida, 1996
B.S. in Psychology, University of Florida, 1993
Research and Special Interests:
Health disparities in Latino adolescents; Multicultural considerations on counseling and counselor education; school counseling and diverse populations; and college access of Latino adolescents and their families.
Awards (selected):
The UNCG Alumni Teaching Excellence Award for Untenured Faculty, The University of North Carolina at Greensboro, 2007.
Recognition of Service Award, Indiana Counseling Association, 2003
Professional Service (selected):
Associate Editor, Journal for Specialists in Group Work, 2008-present
Editorial Board, Journal of Multicultural Counseling and Development, 2008-present
Counseling Experience:
School Counseling consultant, High School, 2000-2001
School Counselor, Elementary School, 1996-1999
Professional Licensure and Memberships (selected):
NC DPI, K-12 licensed school counselor
NBCC, National Certified Counselor
Recent Publications (Selected):
Hall, D., Wilkerson, J., Lovato, J., Sink, K., Chamberlain, D., Alli, R., Clarke, P., Rogers, S., Villalba, J., Williams, J., Shaw, E. (2014)  Variables Associated with High Caregiver Stress in Patients with Mild Cognitive Impairment or Alzheimer's Disease: Implication for Providers in a  Co-Located Memory Assessment Clinic. Journal of Mental Health Counseling, 36(2),145-159
Clarke, Philip B., Shaw, Edward G., Villalba, Jose A., Alli, Rabeena., Sink, Kaycee M. (2013) Therapeutic Interactions to Enhance the Mental Health and Wellness of Dementia Caregivers and Patients. Journal of Gerontological Nursing, 39 (11),7-10.
Borders, L. D., Young, J. S., Wester, K. L., Murray, C. E., Villalba, J. A., Lewis, T. F., & Mobley, A. K. (2011). Mentoring promotion/tenure-seeking faculty: Principles of good practice within a counselor education program. Counselor Education and Supervision, 50, 171-188.
Myers, J. E., Willse, J. T., & Villalba, J. A. (2011). Promoting self-esteem in adolescents: The influence of wellness factors. Journal of Counseling and Development. 89, 28-36.
Villalba, J. A. (2011). The impressions of school nurses and school counselors related to health disparities of Latina/o students in rural, emerging Latino communities. Hispanic Healthcare International, 9, 32-40.
Shattell, M., Quinlan-Colwell, A., Villalba, J., Ivers, N., & Mails, M. (2010). A cognitive behavioral group therapy intervention with depressed Spanish-speaking Mexican women living in an emerging immigrant community in the United States. Advances for Nursing Science, 33, 158-169.
Villalba, J. A., Ivers, N. N, & Bartley Ohlms, A. (2010). Cuento group work in emerging rural Latino communities: Promoting personal-social development of Latina/o middle school students of Mexican heritage. Journal for Specialists in Group Work, 35, 23-43.
Recent Presentations (selected):
Villalba, J. A. (2011). Preparandose para la Universdida/Getting ready for College. Panel presented to Latina/o students and parents at Statesville High School. Statesville, NC.
Villalba, J. A. (2009). Health disparities in Latina/o youth living in rural emerging Latino communities: Impressions from school health service providers. 6th Annual Latino Health Symposium: Focus on the Family (Greensboro AHEC). Greensboro, NC.
Shattell, M., Villalba, J. A., & Stokes, N. (2008). Mental health needs for Latinas: A community-based participatory research project. Southern Nursing Research Society. Birmingham, AL.
Villalba, J. A. (2008). Students services personnel working with immigrant students: The role of school counsellors and school nurses in addressing Latin American immigrant student health disparities in school settings. International Conference on Education, Innovation, and Research. Madrid, Spain.
Other:
Principal investigator, Addressing rural Latina/o adolescent health disparities through school nursing and school counseling services pilot study, $178,253 requested. Part of: Wallace, Debra C. (PI). TRIAD Center for Health Disparities. 1P20MD002289-01, NCMHD/NIH, 10/1/2007-9/30/2012, $6,589,787.
Personal:
Enjoy spending time with my wife, Rachel, and children, Jacob, Celia, and Alex at parks, zoos, movies, and other things that families with little ones do. Also enjoy watching movies and going to concerts when time permits, which doesn't happen that often.