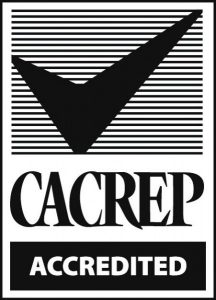 CACREP Accreditation
The School Counseling Program and the Clinical Mental Health Program are accredited by CACREP (Council on Accreditation of Counseling and Related Programs) through October 2026. In January 2012, CACREP awarded accreditation to the Part-Time, Online Campus Delivery of the School Counseling and Clinical Mental Health Programs. Additionally, in February 2012, the University received approval of the Online Campus programs from the Commission on Colleges (COC) of the Southern Association of Colleges and Schools (SACS).
---
Since the Fall of 2012, the counseling programs in Clinical Mental Health and School Counseling have been offered both on campus and online. Our goal is to make the WFU Counseling Programs accessible to working professionals who desire to complete a master's degree in counseling but cannot leave work for two years to complete the program on campus. More specifics about curriculum, admissions, faculty and other matters are outlined in the following sections. Click here to learn more about the part-time Masters in Counseling online program.
Online Campus State Specific Information
Please view state specific information pertinent to Online Campus Students in the MA Counseling programs here.
Course Requirements
The master of arts in counseling degree is awarded to candidates who successfully complete a minimum of sixty semester hours in a planned and directed program of study. The program consists of a common core of courses to provide knowledge in eight areas: human growth and development, social and cultural foundations, helping relationships, group work, career and lifestyle development, appraisal, research and program evaluation, and professional orientation. The program also supplies clinical instruction with practicum and internship experiences. In addition, students must select a program specialty area—school counseling or clinical mental health counseling—in which they complete their internships and take courses that assure at least entry-level competence. First-year students in the full-time, Reynolda Campus program complete core courses such as Theories and Models, Professional Orientation to Counseling, Counseling Skills and Techniques, Research, Group Procedures, Life Span Development, Family Counseling, and Career Counseling. In the second semester of the first year, students begin their field experiences in Practicum. First semester Online Campus students will complete core courses including Professional Orientation to Counseling and Life Span Development or Theories and Models of Counseling and Research and Statistical Analysis in Counseling. Online Campus students begin their Practicum field experience in their sixth semester of course work.
In order to complete all requirements, summer school attendance is required between the first and second years for Reynolda Campus students. Online Campus students are able to complete the program in three years by continuing course work in the fall, spring, and summer semesters. In addition to academic coursework, students work an average of 20 hours each week in an internship in either a school or clinical mental health setting. Internships occur during the second year of the Reynolda Campus program and during semesters eight and nine for Online Campus students. All courses for full-time students are offered on the Reynolda Campus of Wake Forest University. None of the required Reynolda Campus courses are offered in a long-distance format or at night or on weekends. All classes for the Online Campus program are offered in a long-distance, online delivery format.
Continuance in the program and admission to candidacy are based on success in academic courses and on personal, ethical, and performance considerations. Graduates are eligible to sit for the National Counselor Exam (NCE) and/or the National Clinical Mental Health Counselor Exam (NCMHCE). Those who complete the School Counseling track are eligible to apply for licensure with the North Carolina Department of Public Instruction. As a CACREP-accredited program, the program of study through the Department of Counseling generally meets the licensure requirements for other states. However, certain states may have additional requirements. For example, Florida requires a course in Human Sexuality. It is the responsibility of the student to check with their state licensing boards to determine what requirements are necessary and to plan for meeting those requirements, if any. State licensing information can be accessed through the American Counseling Association.
Wake Forest University Masters of Arts – Counseling Reynolda Campus Students and Online Campus Students
A minimum of 60 semester hours is required for Master of Arts degree in Counseling. The Program of Study includes fifteen required Core Courses, three Clinical Courses, and three courses in a Program Specialty Area.
CORE COURSES: (42 semester hours)
---
CLINICAL COURSES: (9 semester hours)
---
PROGRAM SPECIALTY COURSES: (9 semester hours)
School Counseling Program Specialty Courses
Clinical Mental Health Program Specialty Courses
Approved Electives (0-6 semester hours)
Sequence of Courses
The School Counseling Program is designed to provide prospective school counselors with the knowledge, skills, and competence necessary to establish and conduct effective developmental guidance and counseling programs in schools, kindergarten through the twelfth grade. The course of study that leads to a license in school counseling in North Carolina (and through reciprocity agreements leads to licensure in most other states), is based on the requirements of the North Carolina State Board of Education, and is accredited by the National Council for Accreditation of Teacher Education, and the Council on Accreditation of Counseling and Related Educational Programs (CACREP).
The Clinical Mental Health Counseling specialty leads to eligibility, after passing the required examination and meeting the post-master's supervised experience requirement, as a Licensed Professional Counselor in North Carolina and may lead to licensure in other states, depending on their requirements. The course of study is accredited by the Council on Accreditation of Counseling and Related Educational Programs (CACREP) and the core required courses in the program meet the eight CACREP core areas required by most states for licensure. In addition, students will gain professional knowledge, skills, and practices necessary to address a wide variety of circumstances within the clinical mental health counseling context.
This degree is an academic program for graduates who seek to enter the ministry with skills in both theology and in counseling. Full-time on-campus students accepted into the dual degree program can complete the requirements for both Divinity and Master of Arts in Counseling degrees in four years instead of the usual five. In this combined program, neither the MDiv nor the MA in Counseling is compromised.
All classes are offered on the Reynolda Campus of Wake Forest University. At this time, the Dual Degree program is not available for students in the Online Campus Counseling program. The curriculum is in line with the accreditation bodies of both partners. Graduates will meet the educational requirements of licensure as professional counselors in North Carolina and in most other states.